Meet a few of the bunnies that your donation helps.
At Triangle Rabbits, part of our mission is to help rescue bunnies with foster care and medical needs. Over the last eight years, we've been able to help more than 170 bunnies find homes of their own.

To care for the bunnies in our program, including foster supplies like food and enclosures, spay/neuter surgeries, vaccines, and check-ups, we have spent over $11,000 in 2022 alone! Your contribution allows us to help these rabbits, and provide care for even more bunnies!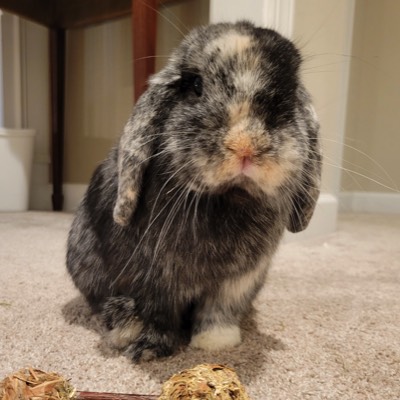 Reese is one of Bella's babies. Bella came to Triangle Rabbits with her newborn babies, Reese and Lola, from a local shelter. Reese is about seven months old now and is an easy going fellow. He's very curious and loves exploring and checking out his foster family's activities. He especially enjoys exercise time with lots of binkies and nudging people with his nose. We love hearing about how he enjoys flopping in his tunnel after enjoying a blueberry with his foster family. We are so pleased to be able to help Reese (and Bella and Lola) on their way to homes of their own.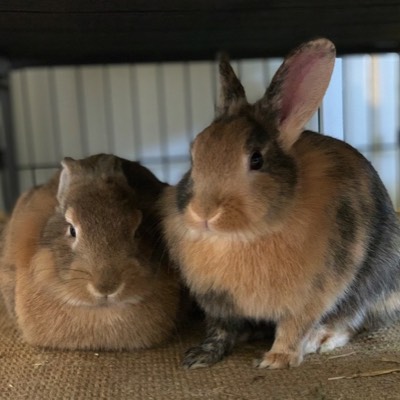 Arden and Quinn are silly sisters! They were young when they came to rescue this year and it was a blast to watch them grow up. Quinn is a spunky lady who loves to find new places to explore and chase her sister. Arden is her mellow balance, but loves to run around with Quinn until she finds a quiet corner to flop. Both bunnies love playtime and happily accept pets when lounging, or may jump in someone's lap to accept a treat. Arden and Quinn's favorite activities in foster care were chewing on their cardboard boxes, jumping on high places, and crawling in small spaces. They also discovered a love of all food! We're so grateful for the support that allows us to help bunnies like Arden and Quinn - they won our hearts and the hearts of their new family!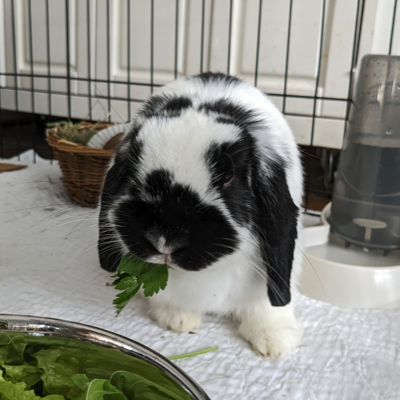 Timbre came to Triangle Rabbits with her newborn babies Moe, Honey, Juniper, and Winona. She has been a good mom to all of them and it was so sweet to watch them grow! Timbre is a shy lady, not as outgoing as her babies, and she's been learning to trust humans in her foster home. Positive reinforcement with plenty of treats and gentle pets has been great for her. Helping shy bunnies learn to trust people is an important part of our foster program, and we couldn't do it without your support. Timbre has also discovered a love for toss toys and remodeling cardboard boxes. Her babies are not babies any more, and Moe and Winona have found their forever homes with families that love them. Winona even has some dog and cat siblings! Timbre, and babies Honey and Juniper, are still looking for their perfect match. Timbre may have found it with a new bunny friend, but time will tell if they decide to be besties, or if good fences make good neighbors.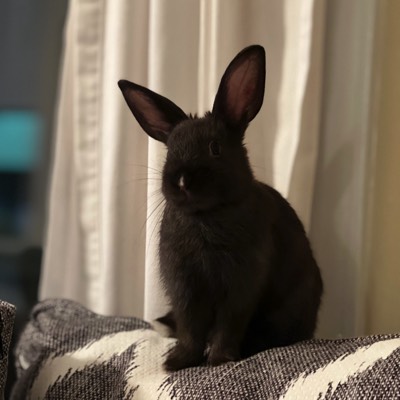 Squirt was very tiny when she came to rescue and she had us all worried. It's not good for a baby that small to be away from their mom - baby bunnies should stay with mom for about eight weeks. Thankfully she beat the odds and now she's a happy, healthy girl. Squirt loves to binky and do parkour on the couch, and she spent lots of time entertaining her foster family with her antics. She also loves humans and gives forehead kisses. She grew up with a talent for bunstruction, and no toss toys are safe! We're happy to share that Squirt was recently adopted into a home and she has a new bunny friend. Your support helps bunnies like Squirt get the care they need in a safe, loving environment.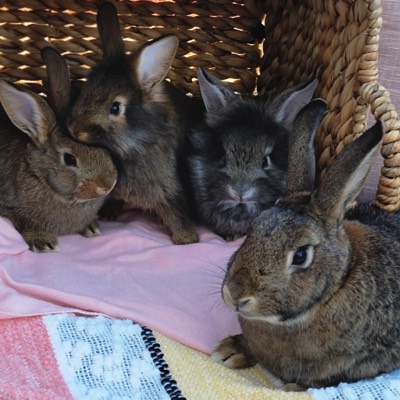 Fern, Juno, Opal, and Rue
Mom Fern came to Triangle Rabbits this year with her babies Opal, Juno, and Rue. These sweet buns flourished in foster care! Opal is a zoomies champion and had so much fun running in the hallway at his foster home. He would even shake the pen to let humans know it was playtime! Juno loved trying all the new greens and treats as she grew and would steal some of mom's salad. Rue has grown up to be to be a super curious and trusting bunny and doesn't think twice about exploring the whole house. Mom Fern is a bit shy and loves her dens, huts, and any little nook she can fit in. She also enjoys chilling in her litter box and renovating cardboard boxes. Juno and Opal have homes of their own. Fern and Rue decided girls need to stick together, and they are waiting to be adopted as a pair. In the meantime they are entertaining their foster family and eating all their straw hats.
Where does your donation go?
We work hard to give the rabbits in our care the best chance for a better life. Here's how we use your donation.
For every $1.00 donated to Triangle Rabbits in 2022:
$0.86 for program expenses, including vet care for foster rabbits, food, hay, and supplies like litter boxes, treats, and toys

$0.13 for general expenses like printing, software, paper, postage, and fees
$0.01 for fundraising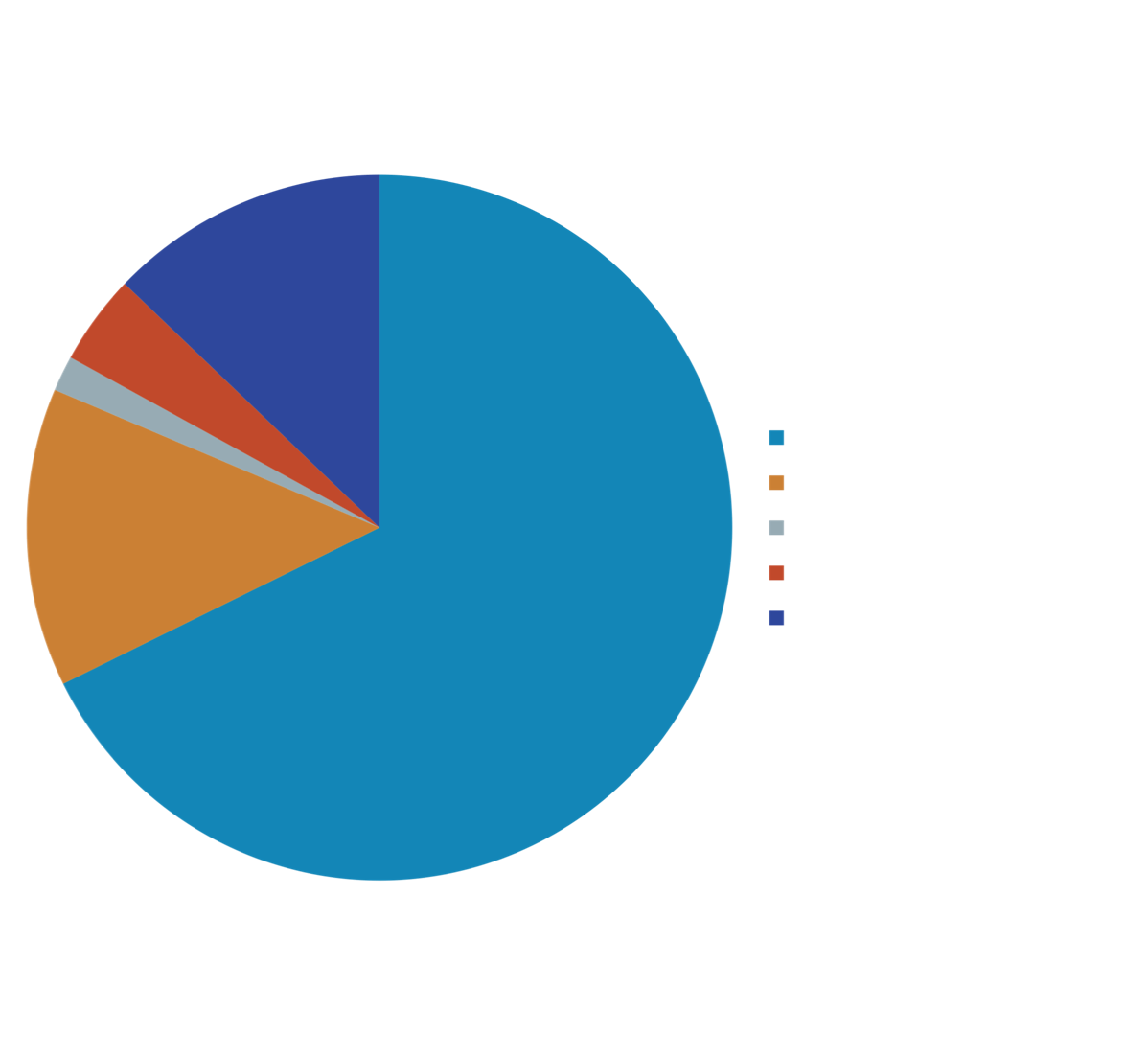 Triangle Rabbits is an all-volunteer 501(c)(3) nonprofit organization serving North Carolina, U.S.A.