These rabbits are available for adoption from Triangle Rabbits. If you are a new bunny owner, we recommend checking out
House Rabbits 101
.
Read our guidelines and learn about our adoption process.
Apply to adopt a new friend.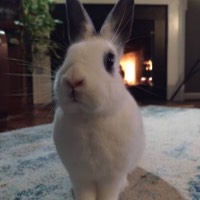 Perdita
Say "hi" to Perdita! She is a friendly bunny who likes to spend time out of her pen with family. She enjoys interacting and getting attention from her humans. She also likes playing with her cat friend in her foster home. She has very soft fur, her smoky eyes are on point, and her ears have beautiful patterning. She's about two years old, very energetic, and is always on the move. Perdita is most active in the evenings when she eagerly waits to be let out of her pen. She is adventurous and investigates, exploring new areas to add to her running path. She loves having enough space to zoom around in circles. Her favorite toys are baby keys and cups that she can pick up and toss. Perdita already knows how to use the litter box very well. Perdita is on a special diet because she has megacolon. She does great with a strict diet of only certain kinds of foods. She enjoys green and red leaf lettuce and especially various herbs like parsley and cilantro. To learn more about megacolon, check out our webinar
Megacolon in Rabbits
. Perdita is currently fostering in the Raleigh-Durham area.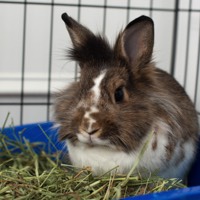 Bentley
Are you looking for an excellent conversationalist? Bentley may be your perfect match! He loves to honk and talk, and is always happy to share his opinions. He is sweet and loves pets, destroying toys, and most of all, food! He can be protective of his food and his space, so a rabbit experienced home would be a great fit for him. Bentley enjoys having lots of free time and is not a fan of his enclosure. He loves to explore - that is the most fun! He is about a three years old, and is currently fostering in Raleigh-Durham, NC.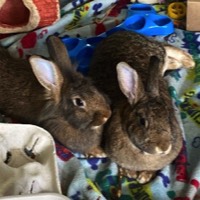 Fern and Rue
Mom Fern and baby Rue are ready for a home of their own. Rue is a super curious and trusting bunny, and will not think twice about exploring the whole house. She's smart and will work hard on learning tricks with consistency and positive rewards. She has the cutest baby mane and enjoys grooming herself (and Fern). When she's tired she'll lay on her side and watch her human to make sure they're not eating without her. Fern is slower to warm up, and naturally loves her dens, huts, and any little nook she can fit in. She also enjoys chilling in her litter box and renovating cardboard boxes. She likes playing with toys and chewing her bamboo treats. Fern will come out to greet her human every time, on the off chance you have a little papaya bite in your pocket. Currently fostering in the Raleigh-Durham area.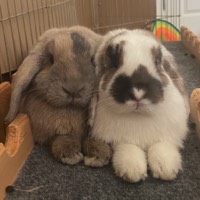 Honey and Juniper
Meet Honey & Juniper! These two sisters are about 7 months old and must be adopted together. They may be small, but they need a lot of space to play and more importantly, to get away from each other when they want some alone time. They are currently living in a 10x11 bunny proofed room, but if they could talk, they would probably say they could use a little more square footage. They love to munch on hay all day long, but in the morning they circle like sharks for pellets. They also enjoy eating veggies twice a day. They are still pretty shy, but they will warm up to you if you give them time. They are also quite active and would prefer to run around than be pet. They make great bunny entertainment AKA bunny TV! Currently fostering in the Charlotte area.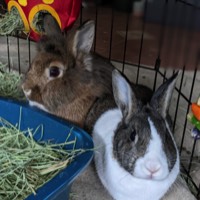 Minnie and Morgan
Minnie and Morgan are very sweet and shy. They take a little bit of warming up, but once they get used to you they are very curious and playful bunnies. They do speedy laps (zoomies) when you bring them pellets in the morning and run to greet you when you have their veggies in the evening. They love to explore and free roam as well. As a bonded pair, they get along so well and take great care of each other. They would do best in a quieter home without dogs as loud noises startle them. They are also mostly litter box trained, but will need some help getting the rest of the way. They are about three years old. Currently fostering in the Raleigh-Durham area.
Triangle Rabbits is an all-volunteer, 501(c)(3) nonprofit organization, and a chapter of the House Rabbit Society, serving the Triangle area (Wake, Durham, Orange, and surrounding counties) of North Carolina, U.S.A.