Featured Local Adoptables
These rabbits are available for adoption from Triangle Rabbits, or from our local shelters and rescue partners. Each group has it's own application process and adoption fees. If you are interested in meeting one of these bunnies, please contact the group or individual directly. If you are a new bunny owner, we recommend checking out
House Rabbits 101
.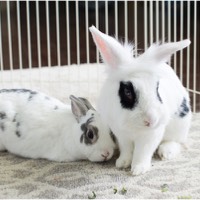 Patch and Muffin *Special needs*
Do you love a May-December romance? Patch and Muffin may be your prefect match! Muffin (L) and Patch (R) have come back to us after a change in their family. Patch is about nine years old, and Muffin is about four years old. They are sweet together and spend almost all their time hanging out in their boxes and lounging on the rug. Patch has some medical challenges and has been on antibiotics for an upper respiratory infection. He's doing much better now, but we expect he will always need medication periodically to keep it under control. They do not care for dogs or cats, and are good with gentle children. Patch and Muffin are almost ready for their next adventure. If you want to add some love to your family, fill out an
adoption interest form
!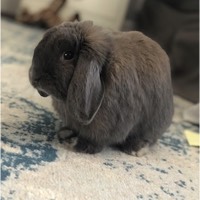 Hal *Adoption pending*
Meet this lil' cutie, Hal. Hal is an extremely sweet and soft bunny who likes attention. He loves food, and carrot and banana are his favorite treats. He feels nervous around people at first, however, once he warms ups he enjoys company. He is a very smart and curious little guy, and he likes to get on his back legs and see what's around him. He doesn't like hard-wood floors, preferring to run and play on carpet. He's learning his litter box and is getting better each week. He is currently fostering in the Raleigh-Durham area. To learn about adopting, email
Triangle Rabbits
or fill out an
adoption interest form
!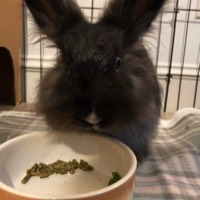 Luna
Luna is a sweet bunny who can be a bit shy at first with new people. She loves treats and all greens. Her favorite treat is freeze dried banana. When you earn her trust, she will eat from your hand. She often comes over to see what her foster family is up to (surprise treat check!). Luna likes to hang out in her box and she stretches out her legs to sleep. She loves running through her tunnel toy. Luna is very fluffy with longer black hair, so people who love grooming are a must. She is still nervous about someone petting her, but she is slowly allowing rubs. She is even learning how to do a spin for a treat! Luna is currently fostering in Raleigh-Durham, NC. If you want to add some love to your family, fill out an
adoption interest form
!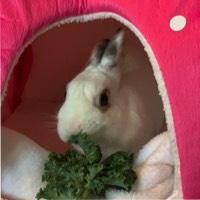 Arlo
I'm Arlo, and I am a bunny princess! I like for humans to present their hand for royal inspection before I allow pets. I love having a spacious home to stretch out and lots of surrounding area for play. Whenever I roam around, I will binky like crazy. I am lovable and sweet, but I don't expect service 24/7 (I am a forgiving princess, after all). I prefer adult humans, as they tend to understand the patronage I require. I do not like other rabbits, and I am feisty with other animals like dogs and cats. Some chasing lets them know who is in charge of my kingdom. If your castle needs a princess, fill out an
adoption interest form
! Currently fostering in the Raleigh-Durham area.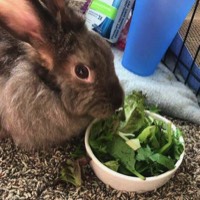 Basil *Adopted*
I'm Basil. I am a very curious girl who likes to explore different parts of my foster home. I enjoy sleeping in my pen during the day, but at night I like to follow the people to see what they are up to (maybe they have treats!). I love all fruits and vegetables, and will run away with my favorites to snack in my spot. Like many bunnies, I don't like to be picked up and I prefer to play on the floor. I do enjoy a nice head rub, though. I love to run and jump and do zoomies in the hallway - it's good for getting a running start! I am getting the hang of this litter box idea, but my foster family says I still need a little practice. I have long, fluffy fur, so extra grooming is a must to keep me looking beautiful. To learn about adopting me, email
Triangle Rabbits
or fill out an
adoption interest form
!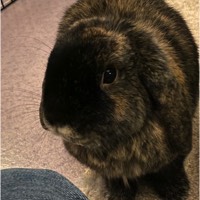 Sophia
You may see a cute, lop-eared rabbit, but from the time I was a wee small bunny I've dreamed of being a DRAGON! I've enrolled in an online course and seek a new lair to protect. I practice my fire breathing skills on FEET! Wear your armor or risk roasted toes! My favorite thing is food. I love to perfect my dragon roar during dinner. Pellets and salad are delicious, and treats will earn special growls. I also have fun darting through the hay as you put it in my bin. After I nip at your heels, I may want to be petted, or I may binky happily away! I am the cutest dragon you've ever seen! I do not tolerate other creatures in my realm, I am the ONLY dragon! One of two types of knights need only apply. Knight of Parsley: Be happy I give you reasons to buy new boots, and pay no mind to my flight skills as leap off my box to startle unsuspecting visitors. Bring parsley and cilantro and you will be rewarded with pets or nips (house dragon's choice). Knight of Treats: Be a clicker training/positive reinforcement training advocate, and let me help you sharpen your skills! If you win my complete trust, you will certainly be the Chosen One. All hail, Dragon Tamer! If you're ready to test your mettle, email the knights at
Triangle Rabbits
or fill out an
adoption interest form
! Experienced knights only, please.
Triangle Rabbits is an all-volunteer, 501(c)(3) nonprofit organization, and a chapter of the House Rabbit Society, serving the Triangle area (Wake, Durham, Orange, and surrounding counties) of North Carolina, U.S.A.