Featured Local Adoptables
These rabbits are available for adoption from local shelters and rescue groups. Each group has it's own application process and adoption fees. If you are interested in meeting one of these bunnies, please contact the group or individual directly. If you are a new bunny owner, we recommend checking out
House Rabbits 101
.
Ruby
I'm Ruby, and it's nice to meet you. I am a beautiful Californian bunny, and my foster family says I have the softest fur. I am a bit shy with new people, but once we become friends I would love a head rub. I like to explore and redecorate my space. Once I get things perfect, I can be picky about my design (humans just don't have my sense of style). People need to be supervised when moving my things. I'm not a big chewer, except for books. Those are irresistible! My favorite treat is apple - you will need to watch your fingers at treat time! Girls get excited about treats. I do not care for dogs (slobber is overrated). I am currently fostering in the Raleigh-Durham area. To learn about adopting me, email
Triangle Rabbits
or fill out an
adoption interest form
!
Alvin *special needs*
I'm Alvin, and I am the cutest, nicest bunny in the world. I know this is so, because I heard my foster family say I am a total sweetheart. I can be shy, but sometimes when people pet me I melt into the floor in delight. I love to zoom around and do crazy binkies and leaps in and out of my condo. Exercise is important for bunnies, you know. I am on a special diet for megacolon, which sometimes affects spotted bunnies like me. My diet helps to keep my GI system in top shape so I feel my best. My favorite treats are parsley, cilantro, basil, and mint (I can't eat veggies like broccoli, but really, who wants those?). I love my hay, and my Supreme pellets! I am about two years old, neutered, and ready for a home to love me. I do not like dogs or cats, but I like my bunny neighbor so I would love a home with a bunny friend. I am currently fostering in the Wilmington area. To adopt me fill out an
adoption interest form
.
Cocoa Puff *Adoption pending*
I'm Cocoa Puff. Sometimes in the right light my fur looks like rich chocolate. My foster family says I'm a fluff ball, so that's how I got my name. I'm a shy fellow who likes to get to know people at my own pace. Like many bunnies, I don't like to be picked up or cuddled and I prefer to play on the floor. I am enjoying trying new types of greens and so far I like them all! Banana is my favorite treat. I love to run and jump (my foster mom thinks it's funny because my ears flop up in the air!). I prefer to have two litter boxes, one for my bathroom and one just for relaxing, so I will need a large enclosure in my new home. I'm currently fostering in the Wilmington, NC area. To learn more, email
Triangle Rabbits
or fill out an
adoption interest form
!
Reverend Fluffy Pants *Adopted*
This lucky little bun was rescued after being abandoned on a church's property to fend for himself. Volunteers from multiple rescue groups came together to help him, and now he's enjoying life as a house rabbit. The Reverend Fluffy Pants enjoys zooming around the room, munching salad greens of all types, and flopping for the occasional head rub. He's neutered and has almost finished his treatment for fleas and mites (outdoor life is rough). He's ready to bless someone's home with love and joy. To learn more, fill out an
adoption interest form
!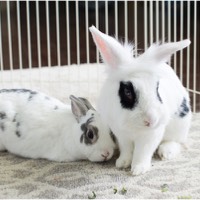 Patch and Muffin *Special needs*
Do you love a May-December romance? Patch and Muffin may be your prefect match! Muffin (L) and Patch (R) have come back to us after a change in their family. Patch is about nine years old, and Muffin is about four years old. They are sweet together and spend almost all their time hanging out in their boxes and lounging on the rug. Patch has some medical challenges and has been on antibiotics for an upper respiratory infection. He's doing much better now, but we expect he will always need medication periodically to keep it under control. They do not care for dogs or cats, and are good with gentle children. Patch and Muffin are almost ready for their next adventure. If you want to add some love to your family, fill out an
adoption interest form
!
Jasper *Adoption pending*
Meet Jasper! He is about eight months old would love a home of his own. He's a bit of an exploring soul, and likes to check out his foster home. He enjoys remodeling his cardboard fort and has fun playing in brown packing paper. Jasper loves salad, and so far has not met a green he didn't like. He's good with his litter habits, and prefers to have his hay in a big rack right beside the box. He's learning about head rubs, and so far he gives them two paws up. He is currently fostering in the Raleigh-Durham area. To learn about adopting, email
Triangle Rabbits
or fill out an
adoption interest form
!
Meena, Aqua, and Yellow
Are you ready for a buncha-buncha bunny love? We are Meena, Yellow, and Aqua, and we're ready for a home together. Mom Meena, is sweet, a little shy, and enjoys napping (what mom doesn't love a nap?). I, Aqua, am a bit of an adventurer and I like to explore. I am also smart and I like to surprise my foster family by appearing in unexpected places. Often I can convince my brother Yellow to join in my mischief. Yellow is easy-going and likes to make friends. Our family is very close, and we want to go home together. We are big bunnies, so having a large space to live and play would be perfect. We are currently fostering in the Raleigh-Durham area. To learn about adopting us, email
Triangle Rabbits
or fill out an
adoption interest form
!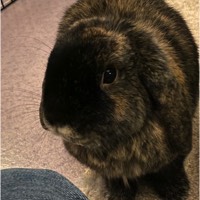 Sophia
You may see a cute, lop-eared rabbit, but from the time I was a wee small bunny I've dreamed of being a DRAGON! I've enrolled in an online course and seek a new lair to protect. I practice my fire breathing skills on FEET! Wear your armor or risk roasted toes! My favorite thing is food. I love to perfect my dragon roar during dinner. Pellets and salad are delicious, and treats will earn special growls. I also have fun darting through the hay as you put it in my bin. After I nip at your heels, I may want to be petted, or I may binky happily away! I am the cutest dragon you've ever seen! I do not tolerate other creatures in my realm, I am the ONLY dragon! One of two types of knights need only apply. Knight of Parsley: Be happy I give you reasons to buy new boots, and pay no mind to my flight skills as leap off my box to startle unsuspecting visitors. Bring parsley and cilantro and you will be rewarded with pets or nips (house dragon's choice). Knight of Treats: Be a clicker training/positive reinforcement training advocate, and let me help you sharpen your skills! If you win my complete trust, you will certainly be the Chosen One. All hail, Dragon Tamer! If you're ready to test your mettle, email the knights at
Triangle Rabbits
or fill out an
adoption interest form
! Experienced knights only, please.
Triangle Rabbits is an all-volunteer, 501(c)(3) nonprofit organization, and a chapter of the House Rabbit Society, serving the Triangle area (Wake, Durham, Orange, and surrounding counties) of North Carolina, U.S.A.