Featured Local Adoptables
These rabbits are available for adoption from Triangle Rabbits, or from our local shelters and rescue partners. Each group has it's own application process and adoption fees. If you are interested in meeting one of these bunnies, please contact the group or individual directly. If you are a new bunny owner, we recommend checking out
House Rabbits 101
.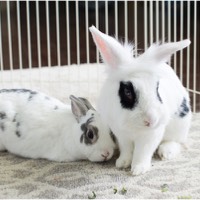 Patch and Muffin *Special needs*
Do you love a May-December romance? Patch and Muffin may be your prefect match! Muffin (L) and Patch (R) have come back to us after a change in their family. Patch is about nine years old, and Muffin is about four years old. They are sweet together and spend almost all their time hanging out in their boxes and lounging on the rug. Patch has some medical challenges and has been on antibiotics for an upper respiratory infection. He's doing much better now, but we expect he will always need medication periodically to keep it under control. They do not care for dogs or cats, and are good with gentle children. Patch and Muffin are almost ready for their next adventure. If you want to add some love to your family, fill out an
adoption interest form
!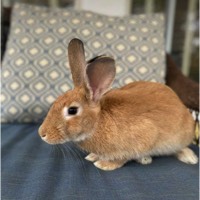 Aspen *Adoption pending*
Beautiful Aspen is ready for a home of her own! She's about six months old, spayed, and excellent with her litter box. She loves exploring and will make sure everything in her home passes bunspection. She loves attention and enjoys being pet. She is a big fan of her timothy hay, and will go through a big box with lots of enthusiasm! Salads are good, too, and apple is one of her favorite treats. She is ok with gentle dogs, but is a bit suspicious of cats. She is currently fostering in the Raleigh-Durham area. To learn about adopting, email
Triangle Rabbits
or fill out an
adoption interest form
!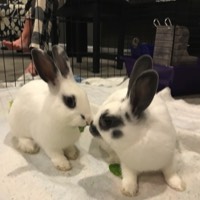 Domino and Marco
Meet brothers Domino and Marco. They are about four months old, neutered, and ready for a home together. Marco is very curious, and has been auditioning to start his own magic show. He is quite an escape artist and he can make your salad disappear! He is not shy and knows how to work the crowd. For his grand finale, he loves to do binkies! Domino is less into showbiz, but loves being with his brother. He likes to explore, and he prefers to play with his chew toys and cardboard box. He does have a bit of the magic touch though, since he makes timothy hay vanish! Domino and March are currently fostering in Raleigh-Durham, NC. If you want to add some magic to your family, fill out an
adoption interest form
!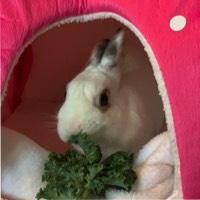 Arlo *Adoption pending*
I'm Arlo, and I am a bunny princess! I like for humans to present their hand for royal inspection before I allow pets. I love having a spacious home to stretch out and lots of surrounding area for play. Whenever I roam around, I will binky like crazy. I am lovable and sweet. I prefer adult humans, as they tend to understand the patronage I require. I do not like other rabbits, and I am feisty with other animals like dogs and cats. Some chasing lets them know who is in charge of this kingdom. If your castle needs a princess, fill out an
adoption interest form
! Currently fostering in the Raleigh-Durham area.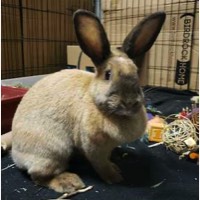 Mist
Mist is an easy going, outgoing, inquisitive 1-2 year old rabbit. She has a big appetite to go with her big personality. She hasn't met a bunny safe food she doesn't like and enjoys all kinds of salad and treats. Did we mention she loves food and treats? She also loves food/treat puzzles. When she finally settles down for a nap she likes a good cozy box to rest in. She enjoys bunny safe tree branches and willow toys for chewing. She's very good with her litter boxes provided she has extras (and once she settles in). She thinks water is very important, and prefers to have a big bowl. She doesn't sit still long enough to be petted much - she is a busy girl! Mist is currently fostering in Raleigh-Durham, NC. To learn more, fill out an
adoption interest form
!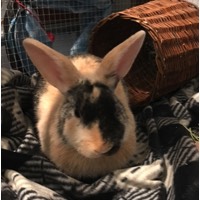 Quinn *Adoption pending*
Meet Quinn! He is very playful and curious, and especially loves to throw his toys around. He is friendly and will accept pets on his back once he gets to know you, but does not like to be picked up. He comes right up to people to check out what they are doing and likes to hang out. He is good about going to bed when it's time to settle in, and he is great with his litter box. For exercise, Quinn enjoys doing zoomies and climbing on things (he recently explored the shelves in his foster family's closet). He is neutered and ready to find a home of his own to explore. To learn more, fill out an
adoption interest form
!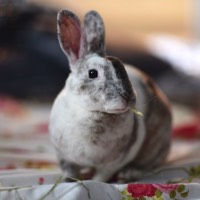 Cleo
I'm Cleo and I am the softest, snuggliest bunny. I love to sit right next to people for pets. I particularly like it when they lay on the floor with me until I fall asleep. Snuggles on the floor are best, though, since I do not like to be picked up. I am getting the hang of my litter training (only a few accidents), and I prefer soft paper bedding in my litter box. My foster family says I am a bit mischievous - I do like to chew and climb - so I need lots of toys and attention. Recently I made a fun game out of running up and down a pillow ramp to the bed - so fun! I am very social and want to be where the people are. I follow my foster family around and enjoy sitting on them. I do zoomies and binkies a lot, especially when it's salad time! I love my Ikea rabbit bed and I will take naps in it during the day and then settle down to sleep at night (I would love one in my new home). I am currently fostering in Raleigh-Durham, NC. To learn more about me, fill out an
adoption interest form
!
Triangle Rabbits is an all-volunteer, 501(c)(3) nonprofit organization, and a chapter of the House Rabbit Society, serving the Triangle area (Wake, Durham, Orange, and surrounding counties) of North Carolina, U.S.A.