These rabbits are available for adoption from Triangle Rabbits. If you are interested in meeting one of our bunnies, you can read through our
adoption procedures
and send us an Adoption Interest Form. If you are a new bunny owner, we recommend checking out
House Rabbits 101
.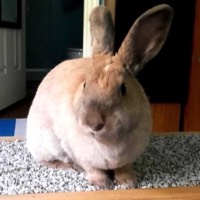 Mist
Meet Mist! She is a beautiful cinnamon bunny, spayed, and about 3-4 years old. She loves exploring and finding new places to lounge around. Her most recent relaxation spot was the shower floor. When she's not snoozing, Mist loves to run around and do binkies. She doesn't often stay still for being pet, but on the occasions that she does she loves grinding her teeth and staying in a loaf. She prefers to have two litter boxes, one for napping and one for her bathroom. Kale and blueberries are some of her favorite treats. Mist is currently fostering in Raleigh-Durham, NC. To learn more, fill out an
adoption interest form
!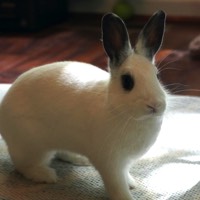 Perdita *Special needs*
Say "hi" to Perdita! She is a friendly bunny who likes to spend time out of her pen with family. She enjoys interacting and getting attention from her humans. She also likes playing with her cat friend in her foster home. She has very soft fur, her smoky eyes are on point, and her ears have beautiful patterning. She's a young bun who is very energetic and is always on the move. Perdita is most active in the evenings when she eagerly waits to be let out of her pen. She is adventurous and investigates, exploring new areas to add to her running path. She loves having enough space to zoom around in circles. Her favorite toys are baby keys and cups that she can pick up and toss. Perdita already knows how to use the litter box very well.
Perdita is a special needs rabbit because she has megacolon, so she needs a strict diet of only certain kinds of foods. She enjoys green and red leaf lettuce and especially various herbs like parsley and cilantro. To learn more about megacolon, check out our webinar
Megacolon in Rabbits
. Perdita is currently fostering in the Raleigh-Durham area. To learn more, fill out an
adoption interest form
!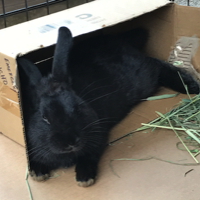 Baxter *Adoption pending*
Baxter is a sweet, playful and energetic young bunny. He loves to zoom around the patio at his foster home, where he has made friends with the gentle, friendly dog. He loves to lounge around and snooze in his box after playtime. He is litter box trained, and he doesn't mind being held. He is very curious and enjoys being around people. Baxter is currently fostering in the Wilmington, NC area. To learn more, fill out an
adoption interest form
!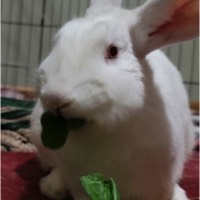 Apollo *Adoption pending*
Hello from Apollo! He loves eating his greens and bananas. He likes his hay mixed so he has variety to pick from (every bunny loves a buffet!). Apollo also enjoys playing in boxes made into a house. He will chew them up eventually, of course, but he likes laying down in his boxes to survey his remodeling progress. Perhaps he will add another window. Being brushed is one of his favorite things. He's even learned that when you say kisses, to come and give you a kiss on you face or even your knee! Apollo is neutered, and is currently fostering in the Wilmington, NC area. To learn more, fill out an
adoption interest form
!
Triangle Rabbits is an all-volunteer, 501(c)(3) nonprofit organization, and a chapter of the House Rabbit Society, serving the Triangle area (Wake, Durham, Orange, and surrounding counties) of North Carolina, U.S.A.