Featured Local Adoptables
These rabbits are available for adoption from Triangle Rabbits, or from our local shelters and rescue partners. Each group has it's own application process and adoption fees. If you are interested in meeting one of these bunnies, please contact the group or individual directly. If you are a new bunny owner, we recommend checking out
House Rabbits 101
.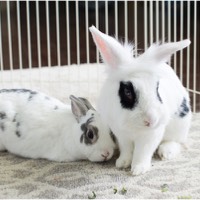 Patch and Muffin *Special needs*
Do you love a May-December romance? Patch and Muffin may be your prefect match! Muffin (L) and Patch (R) have come back to us after a change in their family. Patch is about nine years old, and Muffin is about four years old. They are sweet together and spend almost all their time hanging out in their boxes and lounging on the rug. Patch has some medical challenges and has been on antibiotics for an upper respiratory infection. He's doing much better now, but we expect he will always need medication periodically to keep it under control. They do not care for dogs or cats, and are good with gentle children. Patch and Muffin are almost ready for their next adventure. If you want to add some love to your family, fill out an
adoption interest form
!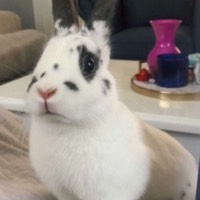 Dot *Adoption pending*
Who runs the world? Dot! This sweet and curious little girl (about 6 months old) is full of energy and ready to play. She enjoys being outside of her crate- she recently learned how to jump on the couch all by herself. She is quite nosey and has very little fear. She will stand on her back legs to make sure she fully knows what everyone is up to and she will thump often so the whole room knows she's there. She needs time daily to get her zoomies out, but once she's done, she likes to check up on her humans and make sure they aren't doing anything fun without her. She is also the best cuddler- she can sit in your lap/arms for hours and loves to be loved on. She isn't super into her treats, but she LOVES her greens and will finish those right away. Dot is currently fostering in Raleigh-Durham, NC. To learn more, fill out an
adoption interest form
!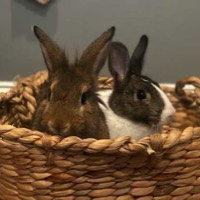 Minnie and Morgan
Minnie and Morgan are ready for a home of their own. Morgan is a lionhead bunny. He loves to dig and play in his hide box. He is shy at first, but loves to come out and run zoomies around the room. His favorite green is basil, and he will grab his treat and sprint away. He's still learning and is getting good with his litter habits. Minnie is a gray and white Dutch bunny. She is sweet and obsessed with all things food (strawberry is her favorite). She loves to run and binky! She is excited and loves life. She's good with her litter box. They are spayed/neutered, and are currently fostering in Wilmington, NC. To learn more, fill out an
adoption interest form
!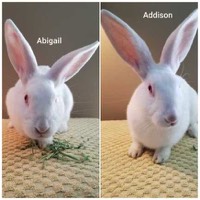 Abigail and Addison
Addison and Abigail are sweet, comical girls, who love to entertain their foster family. They are about a year old and very bonded. Addison, the larger of the two, enjoys climbing on boxes or anything that she thinks might get her to the next level of something to explore. She loves throwing small plastic cups, digging in boxes, and shaking her rope chew toys around, often hitting her sister with it. When she is settling down to a good meal, she will relax with her eyes half shut, and thoroughly enjoy every morsel. Abigail, is slightly smaller than her sister, and is the more mischievous of the two. She prefers to escape the baby gate at the bottom of the stairs in her foster home, and explore the upstairs. She always wants to see what's on the other side of a gate. She loves to toss jingle toys, usually into her water bowl. They are spayed, and are currently fostering in Raleigh, NC. To learn more, fill out an
adoption interest form
!
Triangle Rabbits is an all-volunteer, 501(c)(3) nonprofit organization, and a chapter of the House Rabbit Society, serving the Triangle area (Wake, Durham, Orange, and surrounding counties) of North Carolina, U.S.A.