These rabbits are available for adoption from Triangle Rabbits. If you are a new bunny owner, we recommend checking out
House Rabbits 101
.
Read our guidelines and learn about our adoption process.
Apply to adopt a new friend.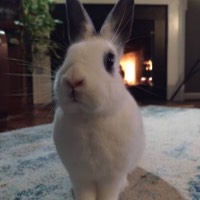 Perdita
Say "hi" to Perdita! She is a friendly bunny who likes to spend time out of her pen with family. She enjoys interacting and getting attention from her humans. She also likes playing with her cat friend in her foster home. She has very soft fur, her smoky eyes are on point, and her ears have beautiful patterning. She's about two years old, very energetic, and is always on the move. Perdita is most active in the evenings when she eagerly waits to be let out of her pen. She is adventurous and investigates, exploring new areas to add to her running path. She loves having enough space to zoom around in circles. Her favorite toys are baby keys and cups that she can pick up and toss. Perdita already knows how to use the litter box very well. Perdita is on a special diet because she has megacolon. She does great with a strict diet of only certain kinds of foods. She enjoys green and red leaf lettuce and especially various herbs like parsley and cilantro. To learn more about megacolon, check out our webinar
Megacolon in Rabbits
. Perdita is currently fostering in the Raleigh-Durham area.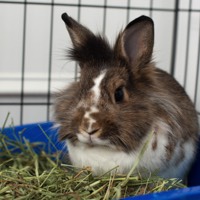 Bentley
Are you looking for an excellent conversationalist? Bentley may be your perfect match! He loves to honk and talk, and is always happy to share his opinions. He is sweet and loves pets, destroying toys, and most of all, food! He can be protective of his food and his space, so a rabbit experienced home would be a great fit for him. Bentley enjoys having lots of free time and is not a fan of his enclosure. He loves to explore - that is the most fun! He is about a three years old, and is currently fostering in Raleigh-Durham, NC.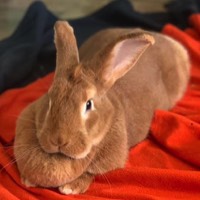 Hiccup
Meet Hiccup! She's a sweet bunny with the cutest dewlap. She was rescued after being abandoned outdoors. Her favorite activities are napping in her cardboard box and keeping an eye on her foster humans. She enjoys interactions with people and will run up when you walk by her pen. Hiccup loves attention and will melt into a bunny puddle when someone is petting her. Her favorite snack is banana. She's about 1.5 years old, and spayed. She is a very large rabbit, so will need plenty of space in her new home. Hiccup loves people (and gentle cats are ok, too), but does not enjoy company of other bunnies. She is currently fostering in the Raleigh-Durham area.
Arden and Quinn *Adoption pending*
Arden and Quinn are silly sisters looking for a forever family together. Quinn is a spunky lady who loves to find new places to explore and chase her sister. Arden is her mellow balance, but loves to run around with Quinn until she finds a quiet corner to flop. Both bunnies love playtime and will happily accept pets once they are lounging, or will jump in your lap to accept a treat. They are working on their litter box. Arden and Quinn's favorite activities are chewing on their cardboard boxes, jumping on high places (including your back if you lean down), and crawling in small spaces. They love all foods, and will even try to take it out of each other's mouths! They are currently fostering in Chapel Hill, NC.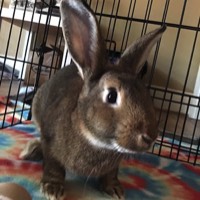 Juno *Adoption pending*
Hello from Juno! She's about five months old and has lots of teenage energy. She's ready to run and play! She enjoys her timothy hay and pellets, and loves all the new flavors as she gets to try more types of greens. Juno has lots of fun with her toys and loves exploring in her foster home. She is a sweet bunny who likes affection and being pet, but like most bunnies does not care to be picked up. She is good with gentle dogs and cats, and may enjoy having a bunny friend in her new home. She is currently fostering in the Raleigh-Durham area.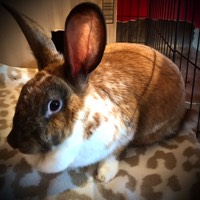 Maddie
We love big buns and we cannot lie! Meet our beautiful redhead Maddie. She is a Flemish giant mix and is about three years old. She is a shy lady and prefers to meet people in her own time. Once she gets to know you, she loves to be pet and will sit all day for rubs. Her favorite treat is banana (though, really, all treats are nice). She is good with her litter box, and enjoys re-arranging her hay to her liking (FYI, she says it goes in the front!). She is curious about the other bunnies in her foster home, but seems happier in her space and doesn't venture too far. She is currently fostering in the Wilmington area.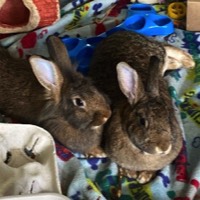 Fern and Rue
Mom Fern and baby Rue are ready for a home of their own. Rue is a super curious and trusting bunny, and will not think twice about exploring the whole house. She's smart and will work hard on learning tricks with consistency and positive rewards. She has the cutest baby mane and enjoys grooming herself (and Fern). When she's tired she'll lay on her side and watch her human to make sure they're not eating without her. Fern is slower to warm up, and naturally loves her dens, huts, and any little nook she can fit in. She also enjoys chilling in her litter box and renovating cardboard boxes. She likes playing with toys and chewing her bamboo treats. Fern will come out to greet her human every time, on the off chance you have a little papaya bite in your pocket. Currently fostering in the Raleigh-Durham area.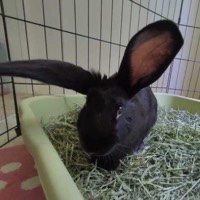 Russell *Adoption pending*
A nudge greeting to you! Russell is about 7 months old and will always greet you, out of curiousity or in hopes of a head rub. He loves all types of greens and romaine, curly kale, carrot tops, and dandelion are favorites. He is a funny bunny who likes affection and being petted, and doesn't mind being picked up (but not for long). He likes to lay behind people and to lay his head sort of under an arm or leg. He is playful, oftentimes he will stretch to reach up and tug someone's shirt. He also has a bit of an obsession with human big toes! He likes to rearrange his furniture but is not destructive. He has so much energy and love to give to a family. Currently fostering in the Wilmington area.
Eeyore
Eeyore is about 7 months old and, while a bit shy, does enjoy a soft petting after dinner. He has an adventurous palate and the only thing so far he hasn't cared for is…. NOTHING! All salad is delicious! He would love a home with lots of freedom to run around and play. He is a sweet rabbit who likes remodeling sturdy cardboard boxes. He will contentedly do construction all day on them. When left alone too long he will also move all of his furniture around. He can be very curious and then does some firm nudging! He is not destructive and has excellent litter box habits. Currently fostering in the Wilmington area.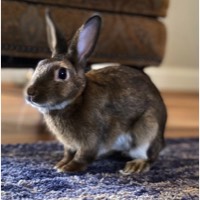 Isaac
Meet Isaac. He's a tiny, sweet little guy at only 2.2 lbs. He loves his Oxbow adult pellets, hays and various veggies and fruits. Isaac enjoys loves spending time with his foster family. He doesn't mind being held, but loves best when people lay on the floor with him. He will do a lot of hopping on and inspecting people, and even gives kisses! He is not afraid of gentle dogs, but does not care for the cat in his foster home. Isaac has an adventurous spirit and likes to explore and see what is going on in the house. He is very young and happy, and loves to do binkies! He has excellent litter box habits and is neutered. Currently fostering in the Raleigh-Durham area.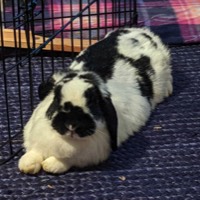 Timbre
Who needs YouTube when you have Timbre? She is a great explorer, loves to zoom around rooms and dash through tunnels, and will flop to rest. Timbre is about a year and a half old, and originally came in to a local shelter with her babies. The kids have grown, she's been spayed, and is ready for a home of her own! She is learning to trust people and will now take treats from her foster's hands (food is the way to her heart!), but doesn't yet want to be pet. She may come sniff you if you sit or lay on the floor with her. She may like a bunny friend. She loves to stretch out in a cardboard box and enjoys toys she can chew (especially seagrass mats and toys that you can add hay to.) She is working on her litter habits. Currently fostering in the Raleigh-Durham area.
Triangle Rabbits is an all-volunteer, 501(c)(3) nonprofit organization, and a chapter of the House Rabbit Society, serving the Triangle area (Wake, Durham, Orange, and surrounding counties) of North Carolina, U.S.A.