The stores listed here sell quality bunny supplies and support rescue and adoption by not selling pets in their stores. If you are a local pet supplier interested in being listed here, please contact us! You must not sell pets in your store to be eligible for this listing.
Unleashed at AniMall
(inside Cary Towne Center)
1105 Walnut Street., Ste. H8808, Cary, NC 27511
919-592-5277
Brands carried: Oxbow
Phydeaux
in Chapel Hill
400-A1 S. Elliott Rd., Chapel Hill, NC 27514
919-960-3606
Toll-Free 1-866-PHYDEAUX (749-3328)
Brands carried: Oxbow, Busy Bunny, Funny Bunny Toy Company, Binky Bunny
The Pet Pantry
Home delivery in the Triangle and Triad.
Free delivery on orders of $25 or more.
919-303-1990
Brands carried: Oxbow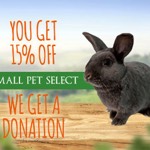 Hay for you, a donation for shelter rabbits!
Our friends at
Small Pet Select
support rabbit rescue! When you purchase hay or pellets from Small Pet Select you can use
our special link
and a portion of the proceeds will be donated to Triangle Rabbits to help local shelter bunnies!
Triangle Rabbits is an all-volunteer, 501(c)(3) nonprofit organization, and a chapter of the House Rabbit Society, serving the Triangle area (Wake, Durham, Orange, and surrounding counties) of North Carolina, U.S.A.