Triangle Rabbits Fall Matching Challenge
Part of our mission at Triangle Rabbits is to help rabbits when they need us most. Our Fall Matching Challenge supports our medical fund; this year we've spent over $12,000 on medical care with a projected total for the year of $15,000. We could not do it without your generous gifts and support from our community.
About our Matching Challenge
At Triangle Rabbits, we are passionate about helping bunnies get the care they need to thrive and helping them find families to call their own. It's been a busy year, with 55 rabbits coming through our foster program so far! That's a lot of wellness checks, sick visits, spay and neuter surgeries, and RHDV2 vaccines! Over the last nine years, more than 225 rabbits have been adopted into homes, and many others have been helped through foster care, filling transport needs, volunteering at shelters, and advocating for pet adoption.

We're grateful to be able to make a difference for rabbits right here in North Carolina, and with your gift we will be able to help even more!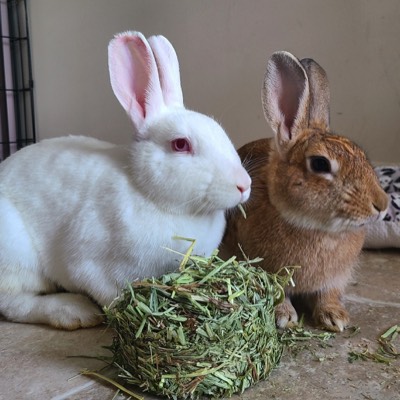 $6644.00 Raised!

$5000 in gifts are matched! Extra bonus match of $1000!
Winnie and Sandy came to rescue after being found in a small cage with no food or water. These girls have thrived in foster care and love their new life as house rabbits. Your support allows us to help rabbits like Winnie and Sandy so they can be adopted into loving homes.
Thank you for considering us in your giving plans to make a difference for rabbits!
Triangle Rabbits is an all-volunteer 501(c)(3) nonprofit organization serving North Carolina, U.S.A.