If you have a bunny, you know that they are not the "low-maintenance" pets that some people think they are. They need a proper diet, housing with plenty of space, and time to run and play every day. For people in bunny love, however, they are definitely worth it! We are here to help you take the best care of your bunny.
A bunny's diet should include hay, fresh vegetables, good quality pellets, and perhaps an occasional treat. For a list of local and online stores check our
Supplies
page.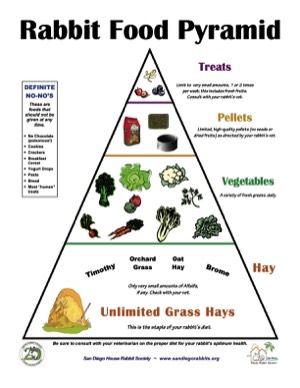 Yes, you can litter train your rabbit! Rabbits tend to use one area to go to the bathroom, so litter box training is often as easy as putting a litter box in the area your rabbit chooses. Spayed and neutered rabbits tend to be easier to litter box train since they don't feel the urge to mark their territory.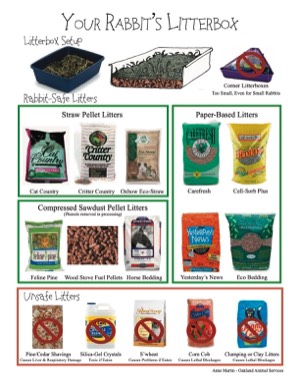 Here are a few articles on how to litter train your rabbit:
There are many types of litter to choose from, but the wrong type of litter can be very dangerous for your rabbit. Make sure to research any type of litter you want to try to make sure it is safe. Never use clumping litter, cedar shavings, or pine shavings. Aspen is the only safe wood shaving for small animals. Pelleted pine litter is okay to use and is a great choice for odor control and absorption. An example is Feline Pine.
There are lots of possibilities for bunny housing, from crates to exercise pens. Remember any enclosure should be at least four times the size of your bunny when he is laying down. We recommend at least eight square feet of living space for a single rabbit, and 16 square feet for a bonded pair, with additional space to run and play. For creative housing ideas, check out our
Pinterest page
!
Articles about rabbit housing (with photos):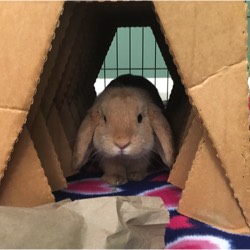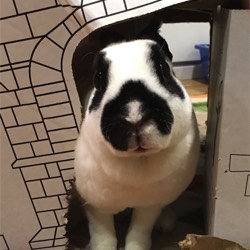 Building plans for grid panel condos:
How to Build an Indoor Bunny Cage
(excellent step-by-step photos)
Where to buy supplies:

Cube grid panels or "Organize-It" cubes can be purchased at Target and other home stores. Price usually ranges from $10-15 for a box.
You can purchase coroplast for condos locally at Southeastern Sign Supply, 2435 Reliance Avenue, Apex, NC 27539, (919) 363-1722.
Multi-level and custom built condos:
Leith Petwerks
, home of the bunny abode rabbit condo, makes very nice rabbit houses if you don't want to build one yourself.
Moving can be stressful, but finding a great place that accepts all your family members should be easy! Many local rental homes and apartments allow pets. Here are some resources to help you find that perfect place to call home.
Triangle Rabbits is an all-volunteer 501(c)(3) nonprofit organization serving North Carolina, U.S.A.