Meet a few of the bunnies that your donation helps.
At Triangle Rabbits, part of our mission is to help rescue bunnies with medical needs on their road to recovery. Over the last six years, we've been able to help more than 100 bunnies find homes of their own.

In caring for both illnesses, such as eye infections, and other medical needs like mites, fractures, and dental surgery, we spent over $9000 on vet care in 2020! Your contribution allows us to help these rabbits, and provide care for even more "fixer-upper bunnies"!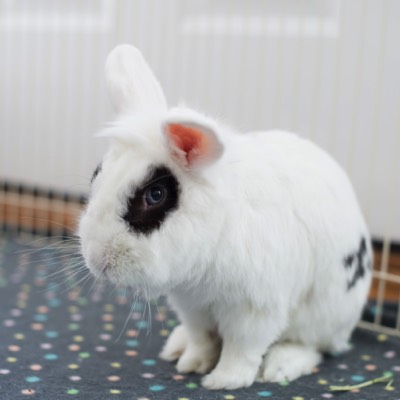 Patch and his best friend Muffin came back into our care this past year. Patch is a senior rabbit who has battled respiratory and middle ear infections, requiring several trips to the vet and medication. Through it all he's kept a good appetite and sweet personality. Patch will likely always need careful follow up care to monitor his ear. He and Muffin look forward to a family to call their own once Patch is feeling better. If you love a May-December romance,
drop us a note
!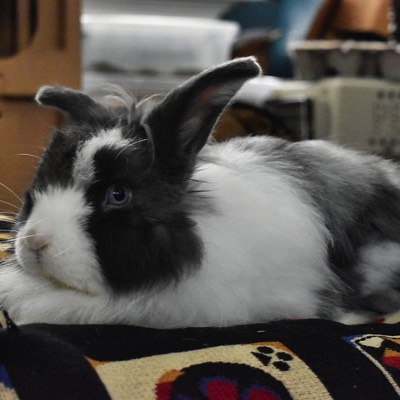 This summer we received a call from a local veterinarian that Puffin needed help. He was injured after a fall and had a fractured leg. He also had terrible mats and had to have lots of his fur clipped to remove them. Puffin had his leg wrapped during recovery, and he needed regular follow up checks to make sure his leg was healing. Thanks to wonderful care from the vet team and a loving foster home, Puffin is doing great! He even has an adoption pending, so he's on his way to a forever home.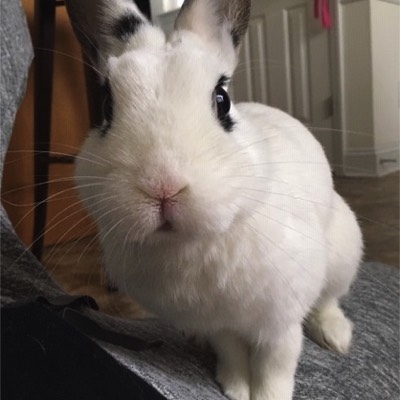 Frosty came to Triangle Rabbits from a Triad area shelter. When he arrived at the shelter, his teeth were so overgrown he could hardly eat. We were contacted right away, and Frosty was off to the vet. Regular tooth trims have helped him to feel better, but his malocclusion meant that he would always need regular dental work. After evaluating Frosty over several dental visits, our veterinarian recommended surgery to remove his incisors. Frosty came through his procedure in September with flying colors. He's recovering now and enjoying chopped salads. We're thankful to be able to help Frosty on his way to a healthy life and a loving home.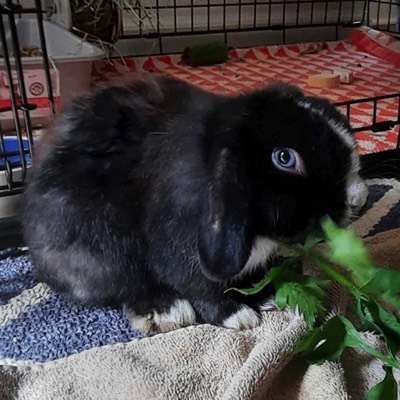 Blaze came to us in the summer of 2020. He's a shy fellow with the most beautiful blue eyes! He had been outdoors, so he needed treatment for ear mites. He also had some lumps on his side from healing wounds. He's learning to trust his foster family, and will even take treats from their hand now. We're happy to be able to help him, and we're excited for him to find a new family to love.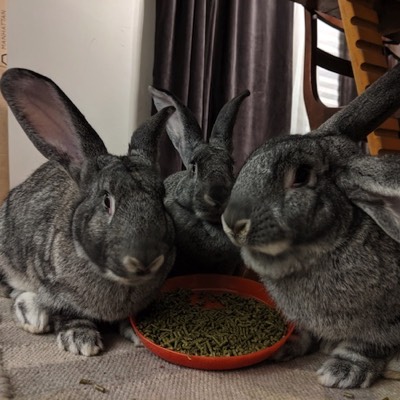 You might remember in late March of 2019, a local shelter had over 40 large breed rabbits surrendered in one week! Meena was one of several bunnies that came to Triangle Rabbits. Within a few days of arriving at her foster home, she gave birth to beautiful babies. Most of her babies have been adopted into homes. Mama Meena, and her babies Aqua and Yellow decided family life was for them, so this trio stayed together. Aqua and Yellow are both bigger than mom now! Our giant bunny family has been waiting for the perfect home with plenty of room for them to run and play (and lots and lots of salad). It takes quite a lot to feed and care for three big bunnies, and our Fixer-Upper Bunny Fund helps us provide support for them until they have a forever home.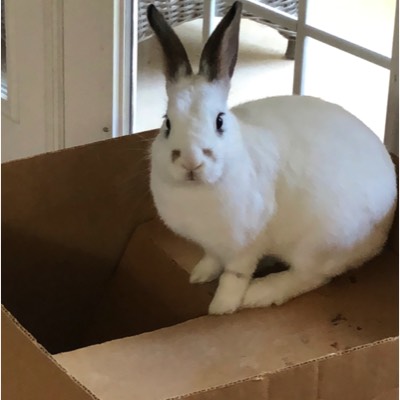 Alvin became part of our rescue program after being abandoned outdoors. While he was fostering with us, his family discovered that he may have megacolon. This genetic disorder involves the nerves in the colon, and can result in irregular stools. A restricted diet keeps Alvin feeling his best. He charmed his foster family and convinced them that he was already home, so we're pleased to share that he was recently adopted. Donations to our Fixer-Upper Bunny Fund help rabbits like Alvin, who need extra care. If you'd like to learn more about megacolon, you can check out our
blog post
.
Where does your donation go?
We work hard to give the rabbits in our care the best chance for a better life. Here's how we use your donation.
For every $1.00 donated to Triangle Rabbits in 2020:
$0.85 for program expenses, including vet care for foster rabbits, food, hay, and supplies like litter boxes, treats, and toys

$0.14 for general expenses like printing, software, paper, postage, and fees
$0.01 for fundraising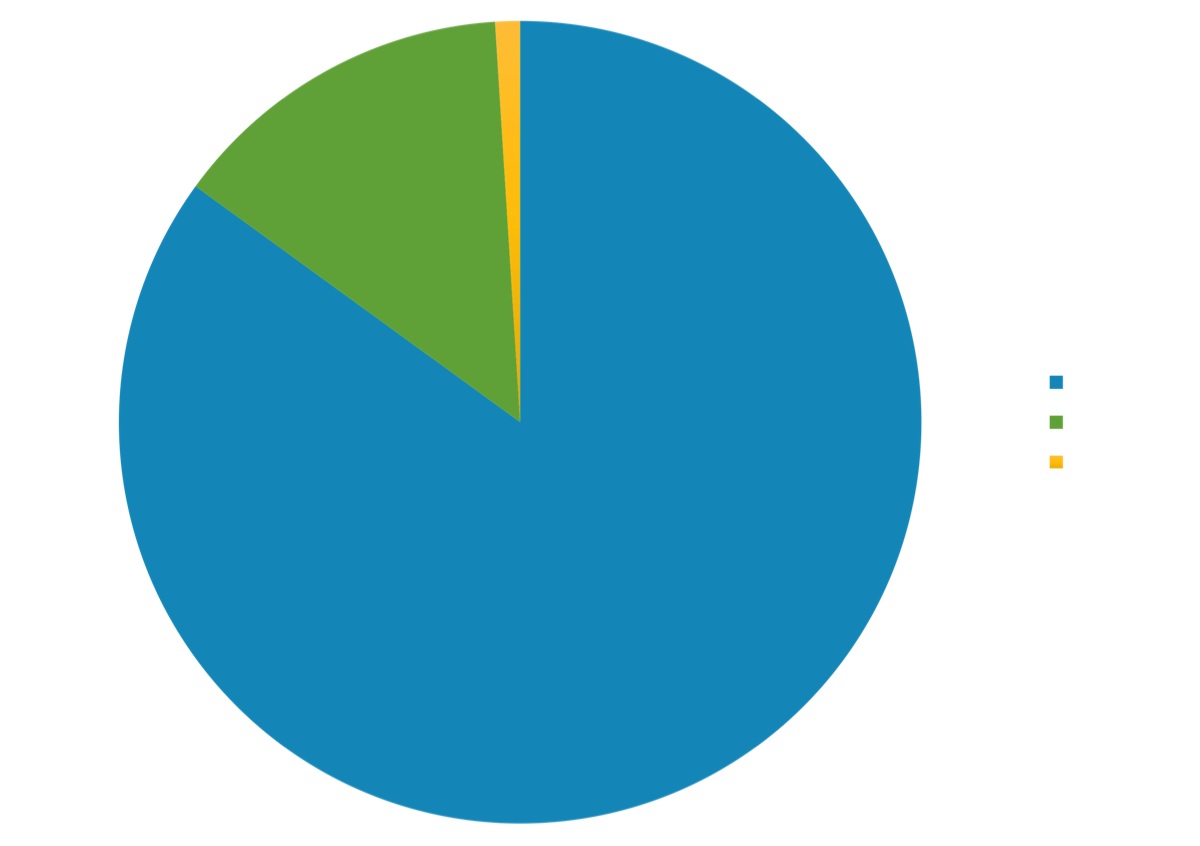 Triangle Rabbits is an all-volunteer, 501(c)(3) nonprofit organization, and a chapter of the House Rabbit Society, serving the Triangle area (Wake, Durham, Orange, and surrounding counties) of North Carolina, U.S.A.